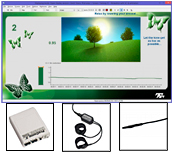 Stress Control System


Includes ProComp2, GSR Sensor, Temperature Sensor,
Biograph Infiniti Software and Stress Control Suite and
all computer connections


Price $1950


In Stock - Ships in 3-4 business days
U.S. Shipping Cost - $65
Shipping Method - FedEx 2 Day Air International Ship Method - FedEx
Policies
Need help selecting the right product? Just call 888-255-9757.
(NOTE:This device is sold only to or by the order of a licensed practitioner.)
The Stress Control Systemwith ProComp2 with Stress Control Application Suite, Skin Conductance & Temperature Sensors and Biograph Infiniti Software is a complete starter system for professional therapists. The Stress Control System is composed of a ProComp 2 multi-modality encoder, Galvanic Skin Response sensor (GSR) and Temperature sensor. Includes BioGraph Infiniti software, the Stress Control Suite and all computer connections. The Stress Control System utilizing the Stress Control Suite is perfect for performing stress level assessments, teaching stress management and relaxation protocols to stressed clients.
Since the ProComp 2 Encoder is a professional 2 channel multi-modality encoder that allows clinicians monitor 2 channels of physiological data simultaneously it is a also great starter or expansion system for clinicians and it is compatible with any other Thought Technology physiological sensor. In addition the ProComp 2 also includes a built in EEG sensor (just connect an extender cable) for EEG monitoring without the need to purchase a separate EEG sensor. The Stress Control System contains all the peripherals to easily connect it to a desktop or laptop running Windows.
Stress Control Suite:
The Stress Control Suite is specifically configured to help clinicians effectively help stressed clients. The Galvanic Skin Response and Finger Temperature are well established indicators of stress levels vs relaxation levels. The Stress control suite has pre-configured protocols and uses objective measures to help you teach your clients stress control and relaxation skills.
With the Stress Control Suite, you can:
• Determine and chart client's stress response patterns, generate reports with a pre-configured 15-minute stress test.
• Teach your clients self-regulation, relaxation and awareness skills with easy to learn biofeedback methods.
• Teach your clients to rapidly and efficiently relax and return to baseline with classic, effective relaxation methods.
What's in the box:
Developer Tools software

15 foot long Fiber Optic Cable

TT-USB adapter (connects the fiberoptic cable from the ProComp 2 to the USB port of your computer)

USB cable

Protective carrying case
Key Software Features in BioGraph Infiniti software:
Coherence screens

Load up to 5 feedback screens per session

Multi-linegraphs up to 8 signals

AVI animations and Fractal screens

Physiology with synchronized video

Powerful trending and reporting features

Exciting sound feedback options

Options for immediate or discrete feedback

Powerful statistics and virtual channel options

Enhanced 3D graphic displays

You can add the EEG suite or the Physiology suite to extend the ProComp 2's clinical capabilities
Configure your own screens with the included Developer's Tools.
RECOMMENDED computer configuration:
Desktop or laptop with two monitor capacity.

CPU: 1.8GHz dual core processor or faster.

Operating systems: - Microsoft Windows 7— Home Premium, Business, Ultimate, or Enterprise. - Microsoft Windows Vista— Home Basic, Home Premium, Business, Ultimate, or Enterprise with Service Pack 2.

50 to 60 gigabytes hard disk space for video recording and processing. (The software needs 2.5 gigabytes to install and run.)

Minimum RAM: 2 GB (Windows Vista or Windows 7).

CD ROM or DVD drive.

Video Card (minimum XGA, 1024 x 768 monitor resolution).

32 bit compatible sound card & speakers.

1 to 4 USB ports, depending on the desired number of Pro/Flex Infiniti encoders.

Mouse or compatible pointing device.

Compact Flash Reader (for use with compact flash card only).

Webcam 30 frames per second (for video purposes only).

Internet access (for updating software and receiving technical support).

Microsoft Office with Word and Excel (for report generation and printing).
You May Be Interested In:
MultiModality Encoder Physiological Sensors
Download Documentation
Stress Control Suite Software Manual
Stress Control Flyer
ProComp 2 Encoder Specifications
Return to Multimodality Biofeedback.